Jurnal Akuntansi [p-ISSN 1410-3591 | e-ISSN 2549-8800] is a peer-reviewed journal published three times a year (January, May, and September) by Faculty of Economics, Universitas Tarumanagara. Jurnal Akuntansi is intended to be the journal for publishing articles reporting the results of research on accounting. Jurnal Akuntansi invites manuscripts in the various topics include, but not limited to, functional areas of International and financial accounting; Management and cost accounting; Tax; Auditing; Accounting information systems; Accounting education; Environmental and social accounting; Accounting for non-profit organisations; Public sector accounting; Corporate governance: accounting/finance; Ethical issues in accounting and financial reporting; Corporate finance; Investments, derivatives; Banking; Capital markets in emerging economies
Jurnal Akuntansi is Nationally Accredited by RISTEKDIKTI in decree No. 1/E/KPT/2015 dated September 21, 2015.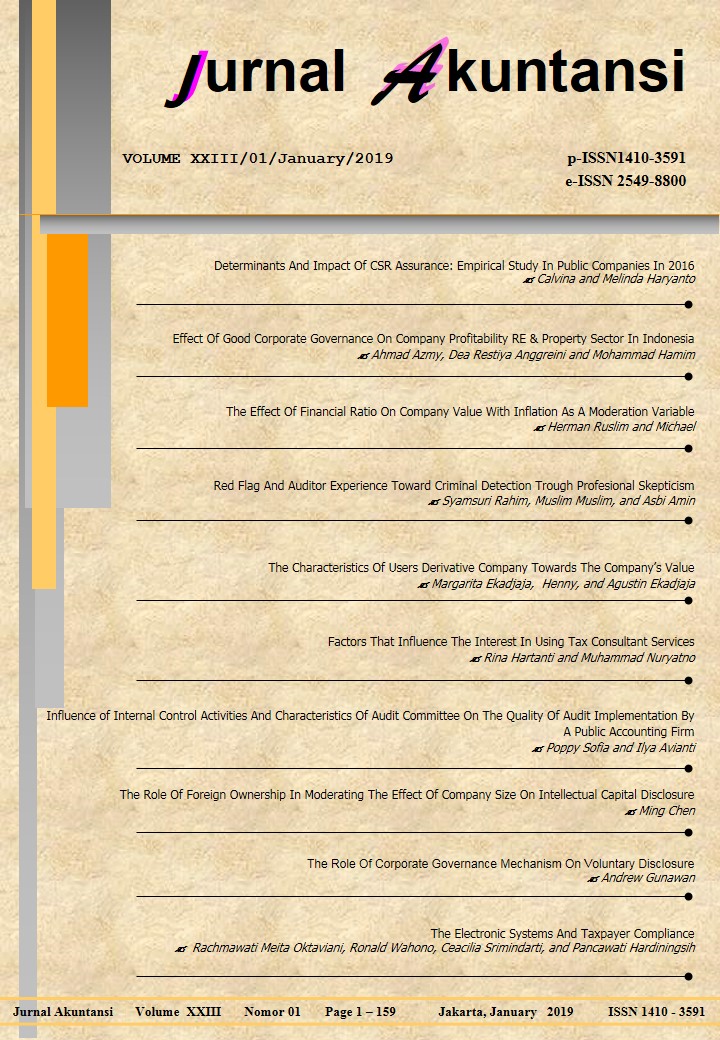 Announcements
No announcements have been published.
Vol 22, No 3 (2018): September 2018
Table of Contents
Articles
| | | |
| --- | --- | --- |
| | M. Wahyuddin Abdullah, Andi Yuliana | 305 - 320 |
| | | |
| --- | --- | --- |
| | Delfita Siagian, Sylvia Veronica Siregar | 321 - 336 |
| | | |
| --- | --- | --- |
| | Eza Gusti Anugerah, Erwin Saraswati, Wuryan Andayani | 337 - 353 |
| | | |
| --- | --- | --- |
| | Dekar Urumsah, Briyan Efflin Syahputra, Aditya Pandu Wicaksono | 354 - 367 |
| | | |
| --- | --- | --- |
| | Caturida.M.Doktoralina, Dewi Anggraini,Safira, Shinta Melzatia | 368 - 384 |
| | | |
| --- | --- | --- |
| | Kharisma Nugraha Putra, Iwan Triyuwono, Lilik Purwanti | 385 - 404 |
| | | |
| --- | --- | --- |
| | I Nyoman Wijana Asmara Putra, Ni Made Dwi Ratnadi | 405 - 419 |
| | | |
| --- | --- | --- |
| | Rio Monoarfa, Hais Dama | 420 - 436 |
| | | |
| --- | --- | --- |
| | Nanik Ermawati, Zaenal Afifi | 454 - 467 |